Professional training Colourpuncture
Healing through colour and light, according the method of Peter Mandel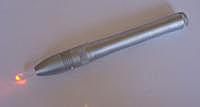 The training is for everybody who works professionally as a natural health practitioner or wants to start working in a naturopath/paramedic profession. Also for those who feel like expanding their knowledge and skills with a new and exciting method.
The training consists of four parts, spread out over one year. The first two parts address the basic training in colourpuncture. You will learn many treatments and gain insights in the philosophy from esogetic medicine. The last two parts give more insight into the connection soul, spirit and body and development of sickness and pain.
Every seminar consists of a theoretic and a practical part, where the theory is practised on each other. An important part of the training deals with making a thorough diagnosis, follow up treatments and how to respond to the client's reactions. The goal of this training is such, that participants can directly start working with this method. At different moments in the training, a kirlian photo is being made from all participants. This can give insight in the personal process. At certain moments, time is spent to give feedback on the work in the form of supervision.
Prerequisite:
This training needs knowledge in basic medical schooling, like anatomy, physiology and pathology. Those who do not have a background in this are asked to take time for studying these subjects.
After the training one can participate in an exam. For participation medical knowledge is compulsory.
Every person does get a certificate of participation upon completion.
Graduation and diploma
After having completed the exam, one receives an official diploma 'Colourpuncture practitioner' from the 'Internationales Mandel Institut' in Bruchsal, Germany.
Programme:
Part 1:


Basic training in esogetic therapies:
1.1
Introduction and principles from esogetic medicine.
-
Information/ energy/ matter
-
A case study within esogetic medicine
-
Symptoms, their meaning and symbolic meaning
-
Different methods of diagnosis
-
32 years of colourpuncture: spectral colours, soul/spirit colours
-
Grey colours, ultraviolet, infrared, colour sound therapies, crystal therapy
1.2
Basic patron: the endocrine system
-
On soul, spirit and body level
-
De 4+1 basic patrons
1.3
Basic patron: the lymphatic-toxic reaction
-
On soul, spirit and body level



Part 2:

1.4
Basic patron: degeneration
-
On soul, spirit and body level
1.5
The 4+1 disease principles in connection to the function circles.
-
Function circle kidney/bladder
-
Function circle liver/gallbladder
-
Function circle lungs/ large intestine
-
Function circle stomach/spleen - pancreas
-
Function circle heart/small intestine
Conclusion
Case studies

Part 3
The higher therapies
-
Basic patron within the disease principles
-
Information system belly-brain
-
Introduction and description from the four elements: fire, earth, water, air.
-
Differential diagnose systems within esogetic medicine
2.1
Treatments:
-
Twelve positions on the skull
-
More treatments with grey colours: conflict resolution, rhythms alpha, beta, delta, theta, OGT (Ophtalmotrope Genetic Therapies), Bardo therapies
-
Mesenchyme, neuroglia, systemic diseases
2.2
The body therapies of 'active fire' + 'neutral fire'
-
Coordination 6,9,10. Treatments for migraine, hypertension
-
Thyroid, angina pectoris, spine, regeneration, ears, eyes
3.3
The body therapies of 'the passive fire', 'active earth' + 'neutral earth'
-
converter points, scull, gallbladder, liver, allergies, nose-smell
-
mouth-taste, father-mother (ellipsis), intestines, coordination 4



Part 4

3.4
The body therapies of 'the passive earth', 'active air' + 'neutral air'
-
Disease pot rheumatism, knee, hip, finger, shoulder , bone, joint
-
arthritis lung, bronchitis, ear, tinnitus, jaw cavity, bladder infections
-
cosmic clocks
3.5
The body therapies of 'active water, 'neutral water' and 'passive water'
-
Bladder infections, focal intoxications, endocrine problems, birth, death.

In part 3 and 4 we also work with the higher therapies like conflict resolution, prenatal therapy according to Robert St. John and Bardo treatments.
Dates
For the dates for the Colourpuncture training in English, send us an e-mail at Praveeta@kleurenpunctuur.nl
Teacher

Praveeta Timmerman has been trained in esogetic colourpuncture and Kirlianphotography at the Osho International Academy of Healing Arts in Pune, India and at the Mandel Institut für Esogetische Medizin in Bruchsal, Germany. She is qualified by this institute to teach. In 1992 she started her practice and teaching institute in Amsterdam.
Member of the Dutch association promoting alternative health (Vereniging ter Bevordering van Alternatieve Geneeswijzen, VBAG), registered with TBNG.
Registration:
Please send your name and address to: Praveeta@kleurenpunctuur.nl