Dream Set
Consisting of crystal dream disc, book 'Dream yourself free' with symbol cards, esogetic oil with wild herbs (bottle 20 ml) and herb tea (90 grams)

An ideal present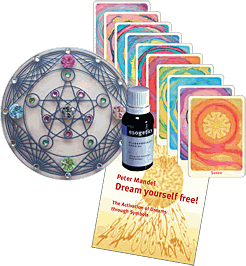 Order number: 1900 – German Price: € 125.-
Order number: 1910 – English Price: € 125.-
From what we know today, dreams can be understood as a mediator between the conscious and the unconscious. Peter Mandel's observations show that certain types of strain or stress are often accompanied by certain types of dreams.
A long time ago already, Peter Mandel tried to retrieve the images of the night and transfer them into the conscious using dreamcreating zones. Today, there are clearly defined esogetic zones, the stimulation of which can promote specific dreams. By now, this technique is used by many people who want to deliberately activate their dream work.
In order to intensify dream activities, Peter Mandel has worked on the symbolism of the ten ancient planets which can be understood as archetypes. Over the years, he developed the idea to use the pentacle in its twofold depiction for therapeutic purposes.
Thus, an effective therapeutic instrument was developed:
The dream disc to be placed onto the body
Whatever the pentacle was credited with throughout the different periods and by different cultures, religions and philosophies, after so many years of observation on human beings, Peter Mandel is convinced that using the "pentacle – dream disc" can help people find their inner self again.
The dream disc brings about a deep calmness and tranquillity and improves the readiness to sleep. Further reactions include the increase of memorable dream activity as well as an improvement of the regeneration of body and nerve system due to a more balanced sleeping rhythm.
A rhythmical sleep is indispensable both for keeping the body healthy as well as for recovery purposes, and the same applies for the memorable dreams that transport the messages of our soul into our waking consciousness.
The book by Peter Mandel
"Dream yourself free – The Activation of Dreams through Symbols"
with the ten ancient planet symbols (based upon the Steiner Symbols), artistically designed and interpreted by Rosita Mandel, as a set of cards that support the application of the dream disc. The application of the dream disc in combination with the esogetic oil with wild herbs is also described in detail.